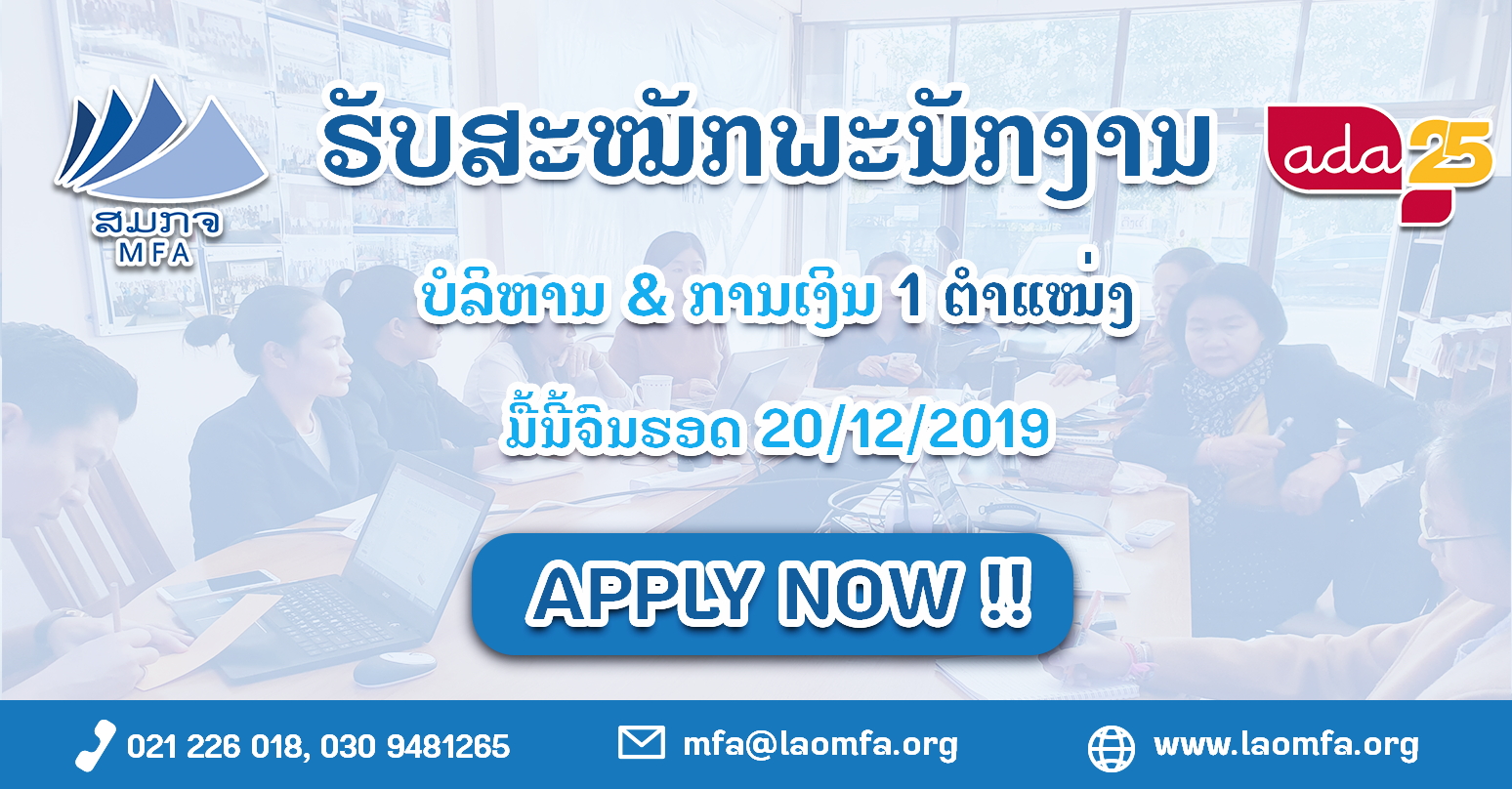 Starting Date: 1 January 2020 until 31 December 2020 (Extension is possible)
Working Place: Microfinance Association (MFA) Vientiane Capital
Duties and Responsibilities
Finance & Accounting tasks:
Check vouchers and receipts submitted by the cashier
Allocates expenses to cost categories and corrects these where necessary
Enter all expenses daily basic to QuickBooks accounting software
Prepares monthly end-of-period accounts and bank reconciliation vouchers
Enter payment bills to the Donor's format report, e.g ADA
Submits the end-of-month accounts, cash books and account balance vouchers to the Director
Assists to prepare budget for trainings/workshops or other MFA activities and arranges payments
accordingly
Assists to prepare financial planning, monthly and annual budgets and monitors deviations
Reports all problems with financial administration and compliance without delay
Administrative tasks:
Is responsible for filing in accordance with MFA rules
Manages incoming and outgoing correspondence (post, fax, email) and prioritises and organises it
Makes photocopies and scans documents as needed
Assists management/board with all aspects of operations on a day-to-day basis
Send letters/documents to stakeholders/Partners
Maintain logbook and calculate/prepare for reimbursement payment to staff
Assist to preparing and organizing the training, Event and seminar
Assists with recruiting (ensures publication in appropriate print and/or online media)
Assists with short listing incoming applications based on requirements or hiring criteria, gets references
Helps to organise the selection process (e.g. interviews)
Assists with notification of unsuccessful applicants, documents the selection process, archives the
documentation
Responding on preparing the contract of staff
Deals with annual and other leave requests for staff
Helps to obtain quotations/buying for goods/equipment's/Office and kitchen materials upon approval
Maintains the inventory list for the office
Assists with preparing the contract for consultant and consulting firms
Performs other duties and tasks at the request of management
Other professional tasks:
Assist to pre-audit of respective members accounting, finance and administration
Assist to monitors expenses in accordance with the budget from donors
Assist to MFA trainer team to coaching the training
Assist to support on monitoring accounting system with SCU-Village Funds which MFA supported
Required qualifications, competences and experience
BA in Business Administration or similar area
at least 3 years' professional experience in a comparable position
in-depth knowledge of accounting software QuickBooks
Good spoken and written English and Lao language skills
Good computer skills (familiar with windows, excel, power point, internet)
Be capable of working independently
Friendly and able to work in a team
Flexible, initiative and willing to learn
Be able to work and travel to provinces
Interested applicants should submit a full application to: Microfinance Association (MFA)
Unit 13, Hongkaikeo Village, Chanthabouly District, P.O.Box: 4030, Vientiane Capital, Lao P D R
Email: mfa@laomfa.local , Web: www.laomfa.local Office Tel: +856 21 226018/+856 30 9481265
Only shortlisted will be notified. Application closing date is 20 December 2019.